Why Live in A Van
Living a Minimalist Lifestyle
Focus on Experiences over Possessions. Anything added dilutes everything else.
Mobility and Utility

Go anywhere. Do anything. Bring all of your gear, your bed, your kitchen & office.

Carbon Footprint

Van Life can save upwards of 50% of your ordinary carbon footprint, compared to living in a typical home.

Freedom

No need to stay in hotel rooms, paid camping sites, and eat in restaurants when you're traveling.
LATEST NEWS
Add a subtitle in Customizer, "Latest news section"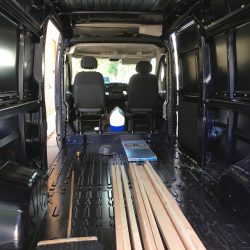 I thought it would be helpful if I provided a general overview of the conversion process that I undertook when designing and building our first ProMaster Camper Van prototype vehicle. It's easy to spend an endless amount of time pre-planning your build, what items and conveniences you deem are necessary for your own personal needs. For me,[…]

Thanks for your attention! It's been nearly six months since the purchase of our Ram ProMaster 3500. At the time of the deal, I had no plans, no CAD drawings, and very little idea what I was doing. Several iterations later after prototyping different aspects of the camper van systems, we completed our first trip[…]
Previous
Next
WE'RE HERE TO HELP.
If you've got questions about converting your Ram ProMaster, you're in the right place.